New and existing users of Google AdWords often ask, "Are Google Shopping campaigns an effective form of online advertising?" The answer is: "Absolutely – when they are managed properly!"
Real-world seller results show that proper advertising spend with Google Shopping campaigns can provide an increase in sales and a higher ROAS (return on advertising spend). In this post we will discuss how Google Shopping campaigns are effective, and what type of results we have seen in the past.
How Google Shopping Campaigns work effectively
Google AdWords shopping campaigns provide a clear picture of which product ads are converting to sales, and for how much. However, it is critical that you measure, track, and adjust bids at a product level.
The best metrics are available at an individual product level. Using product level metrics provides much better clarity than product category or product type levels. With product level metrics, you can see the specific products that are costing you the most, which products are converting, and at what cost. This gives you the power to spend your advertising dollars on the products that bring you sales!
In Google AdWords, you can see track and adjust your Google Shopping ads at a product level: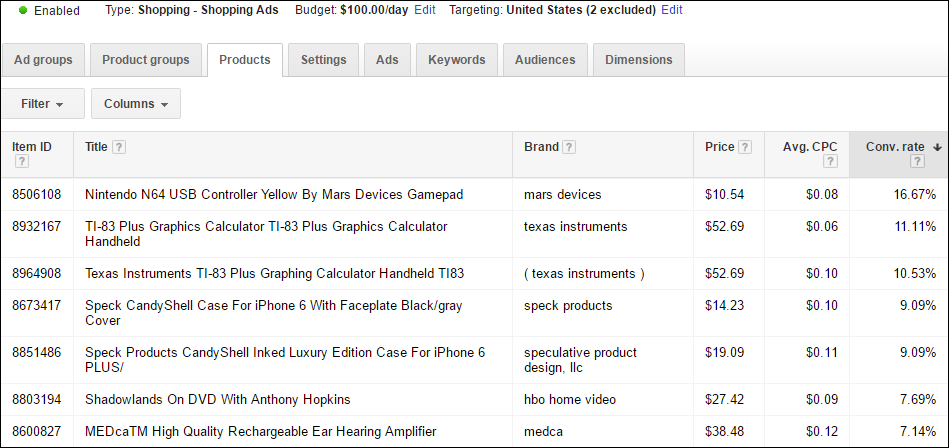 Google Shopping campaigns provide the tools to track your CPC (cost-per-click) and Conversion rate (sales conversion-per-click).  These metrics allow you to run a successful campaign.  Once you have these metrics, it is important to begin tracking seasonality of CPC and Conversion rates:
1. Days of the week which perform better
2. Months of the year which perform better
3. Holiday trends
4. Seasons of the year
It is important to use Google Analytics E-commerce and/or AdWords Conversion Tracking in order to get the best data on your products.  The collection of data from Google Analytics and AdWords reporting is invaluable for historical trending.
Lastly, Google Shopping campaigns work effectively when your budgets are proportionally set to the products that provide the highest quality/conversion of traffic. This is accomplished through several methods:
1. Adjusting CPC (cost-per-click) bids at a product level on a daily basis
2. Creating separate campaigns to manage budgets across groups of products (example: Campaign #1 – Top Performers, Campaign #2 – Under-performing Products), and moving items between campaigns on a daily basis or when necessary
Past Results
Across diverse product types – including Automotive, Baby, Collectibles, Fitness, Home & Garden, Hobbies, Home Improvement, Sports, Toys, and Vintage – our clients have achieved the following results: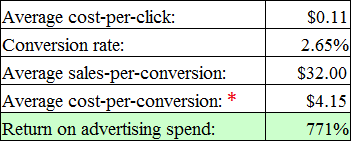 With a ROAS (return on advertising spend) averaging 771%, this is a great time for companies to expand their sales using Google Shopping campaigns.  Past results show Google Shopping campaigns are very effective because of the lower CPC (cost-per-click) and lower conversion cost (cost-per-conversion) than other advertising channels.
The same conclusions were found by an Internet Research team at Jefferies Equity Research.   The Internet Research team performed an in-depth study that showed Google Shopping costs to revenue ratios in 2016 were 40% better than all other shopping feed marketing channels. Better than Amazon ads, better than Facebook ads, and better than Bing/Yahoo ads.
* The average cost-per-conversion for non-optimized Google Shopping campaigns is over $9.00. PrestoSell helps you optimize your Google Shopping campaign to reduce these costs by as much as 50% (on average we lower the average cost-per-conversion to $4.15).
Next Steps
If you'd like to know more about how to run an effective Google Shopping campaign, and what costs are involved, please contact us for more information. We are here to help!